---
Jun 24 | 2019
H.E. Oumarou Idani Minister of Mines & Quarries Burkina Faso
INTERVIEW WITH H.E. OUMAROU IDANI, MINISTER OF MINES AND QUARRIES OF BURKINA FASO
Translated from the original french version found here.
1. ON THE EXPANSION OF GOLD MINING IN BURKINA FASO: WHAT IS THE LONG-TERM VISION AND THE CHANGING CONDITIONS FOR MINERS AND INVESTORS?
The long-term vision of my department with regard to the mining sector is to make it a competitive sector and an important driver for sustainable socio-economic development in Burkina Faso by 2026. Making this vision a reality requires effective implementation of reforms in collaboration with other players in the sector, in accordance with the following guiding principles:
• State Ownership of mineral resources
• Integration of mining in the rest of the national economy
• Partnership, good governance (fairness, transparency, accountability, control and anticipation)
• Preservation of the environment, community development and taking into account themes such as gender inclusivity, environment, human rights and health.
To this end, my department's strategy is based on two principles:
1. Create conditions conducive to the sustainable use of mineral resources.
2. Increased benefits from mineral resource exploitation for the sustainable development of Burkina Faso.
2. ARTISANAL MINING: HOW ARE THE REGULATIONS CHANGING AND WHAT IS THE CURRENT STATE OF AFFAIRS?
The artisanal mining of gold has now become the second most popular occupation of rural people after agriculture. Small-scale mining has experienced significant development with an explosion in the number of artisanal sites or panning. To date more than six hundred sites (following the survey of the National Institute of Statistics and Demography (INSD) 2017) are listed and more than one million people earn a livelihood from this activity. The 2017 national survey of the INSD estimates the artisanal production of gold at 9.5 tonnes in 2016 at a value of 232.2 billion FCFA.
However this craze, despite certain advantages, also has negative effects on an environmental, economic and social level. To deal with all these difficulties and reduce the negative impacts on the environment and on society, the government of Burkina Faso created the National Agency for the Management of Artisanal Mining Operations and Semi-Mechanized (ANEEMAS) in 2015. In 2017 the process of strengthening its capacity and deploying it throughout the country was started. This structure will help channel the estimated artisanal production to the official collection circuits.
The Ministry of Mines and Quarries has put the issue of artisanal mining at the centre of its concerns. For example, on 26 April 2018 the National Forum on Panning was organized under the theme "Artisanal mining (panning) in Burkina Faso: What framework strategies should we adopt for a better contribution to the national economy?" The objective of this forum was to establish a real framework for dialogue between the Ministry and the Artisanal mining players at a national level.
3. BEYOND GOLD: WHAT ARE THE OTHER HIDDEN RICHES OF BURKINA FASO?
Located in West Africa, Burkina Faso has a subsoil that is full of minerals in addition to gold. Previous geological and mining research combined with new investigations undertaken by the Mining and Geology office of Burkina Faso (BUMIGEB), a national geological service with the support of the World Bank, has helped to locate several Indices and anomalies of various metals throughout the national territory.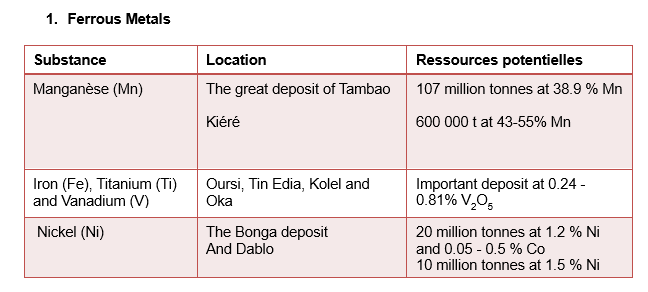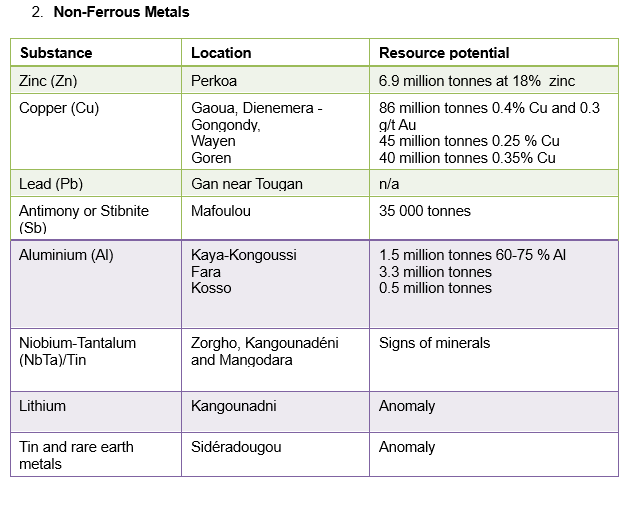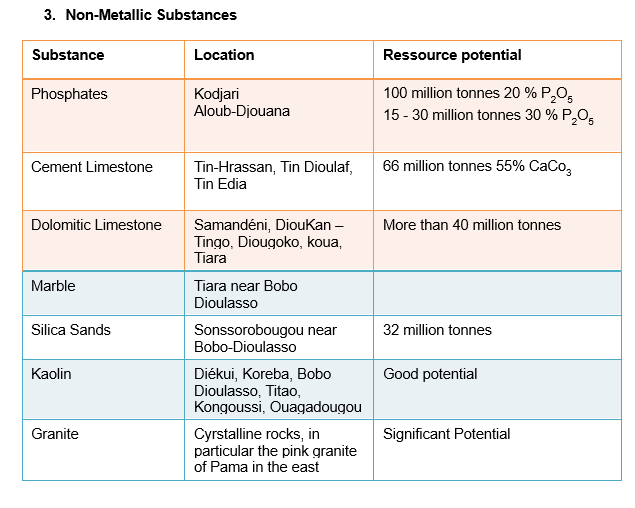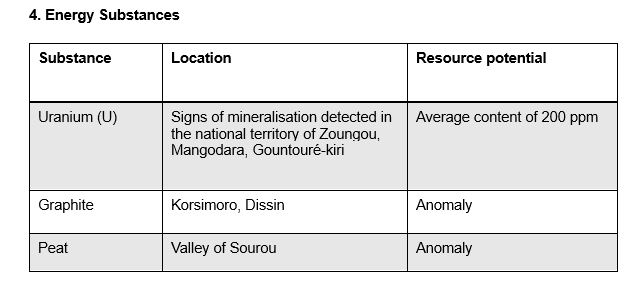 ---
INTERVIEW ECRIT DE MINING INDABA AVEC MONSIEUR OUMAROU IDANI, MINISTRE DES MINES ET DES CARRIERES DU BURKINA FASO
1. L'EXPANSION DE L'EXPLOITATION AURIFÈRE AU BURKINA FASO : QUELLE EST LA VISION À LONG TERME ET LA FLUCTUATION DES CONDITIONS POUR LES MINIERS ET LES INVESTISSEURS?
La vision à long terme de mon Département pour ce qui concerne le secteur minier est de faire de ce domaine à l'horizon 2026, un secteur compétitif et un levier important de développement socio-économique durable du Burkina Faso. La réalisation de cette vision nécessite une mise en œuvre efficace des réformes en collaboration avec les autres acteurs du secteur, dans le respect des principes directeurs suivants : la propriété de l'Etat sur les ressources minérales, l'intégration des mines au reste de l'économie nationale, le partenariat, la bonne gouvernance (l'équité, la transparence, l'obligation de rendre compte, le contrôle et l'anticipation), la préservation de l'environnement, le développement communautaire et la prise en compte des thématiques transversales (genre, environnement, droits humains, santé).
A cet effet, la stratégie de mon Département repose sur les deux orientations que sont :
(1). Créer les conditions favorables à la recherche et à l'exploitation rationnelle et durable des ressources minérales.
(2). Accroître les retombées de l'exploitation des substances minérales pour un développement durable du Burkina Faso.
Depuis les années 1990, le Burkina Faso a connu l'application de trois (3) textes régissant le secteur des mines. En effet, après la déclaration de politique minière de 1997, un premier code minier a été élaboré et adopté en 2003. A partir de 2010, la nécessité de relecture du code de 2003 s'est avérée au regard du contexte marqué par des conflits nés de la volonté de plus en plus grandissante des populations riveraines de profiter des retombées des mines. C'est dans ce contexte, que le code a été révisé le 26 juin 2015. Ce code est un code équilibré, en ce sens qu'il prend en compte les intérêts des investisseurs, des communautés locales et de l'Etat.
2. L'EXPLOITATION MINIÈRE ARTISANALE: COMMENT LES RÈGLEMENTS SONT-ELLES EN TRAIN DE CHANGER ET QUELLE EST LA SITUATION ACTUELLE ?
L'exploitation artisanale de l'or est devenue aujourd'hui la deuxième occupation des populations rurales après l'agriculture. L'artisanat minier a connu un développement notable avec une explosion du nombre de sites d'exploitation artisanale ou sites d'orpaillage. A ce jour plus de six cents (600) sites (suivant l'enquête de l'Institut National des Statistiques et de la Démographie (INSD) 2017) d'orpaillage sont répertoriés et plus d'un million de personnes vivent de cette activité.
L'enquête nationale 2017 de l'INSD, estime la production artisanale d'or à 9,5 tonnes en 2016 pour une valeur de 232,2 milliards de FCFA. Mais cet engouement, malgré certains avantages, s'accompagne également d'effets négatifs sur le plan environnemental, économique et social. C'est pour faire face à toutes ces difficultés et surtout pour réduire les impacts négatifs sur l'environnement et sur la société, que le Gouvernement du Burkina Faso a créé en 2015 l'Agence Nationale d'Encadrement des Exploitations Minières Artisanales et Semi-mécanisées (ANEEMAS).
C'est en 2017 qu'un véritable processus de renforcement de ses capacités et de son déploiement sur l'ensemble du territoire a été entamé. Cette structure contribuera à canaliser la production artisanale estimée à 9,5 tonnes (étude réalisée par l'INSD) vers les circuits officiels de collecte. L'ANEEMAS travaille sur la base des textes comme la loi N°036-2015/CNT du 26 juin 2015 portant Code minier du Burkina Faso, la loi N°028-2017/AN du 28 mai 2017 portant organisation de la commercialisation de l'or et des autres substances précieuses au Burkina Faso et de leurs textes d'application.
Le Ministère des Mines et des Carrières a mis au centre de ses préoccupations la question de l'artisanat minier. C'est ainsi que nous avons organisé le 26 avril 2018 le Forum National sur l'orpaillage sous le thème « Artisanat Minier (Orpaillage) au Burkina Faso : quelles stratégies d'encadrement pour une meilleure contribution à l'économie nationale ? ». L'objectif de ce forum était de mettre en place un véritable cadre de dialogue entre le Ministère et les acteurs de l'artisanat minier au plan national.
EN DEHORS DE L'OR, QUELLES SONT LES AUTRES RICHESSES CACHÉES DU BURKINA FASO
Situé au sein du craton Ouest Africain dont le potentiel minier n'est plus à démontrer, le Burkina Faso a un sous-sol qui regorge de diverses minéralisations en plus de l'or.
Les anciennes recherches géologiques et minières combinées aux nouvelles investigations entreprises par le Bureau des Mines et de la Géologie du Burkina (BUMIGEB), service géologique national avec l'appui de la Banque Mondiale ont permis de localiser plusieurs indices et anomalies de nombreux métaux sur l'ensemble du territoire national.
1. LES METAUX FERREUX

2. LES METAUX NON FERREUX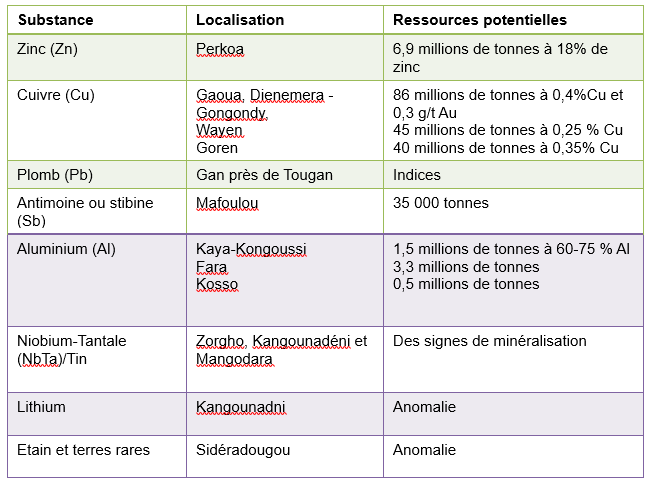 3. LES SUBSTANCES NON METALLIQUES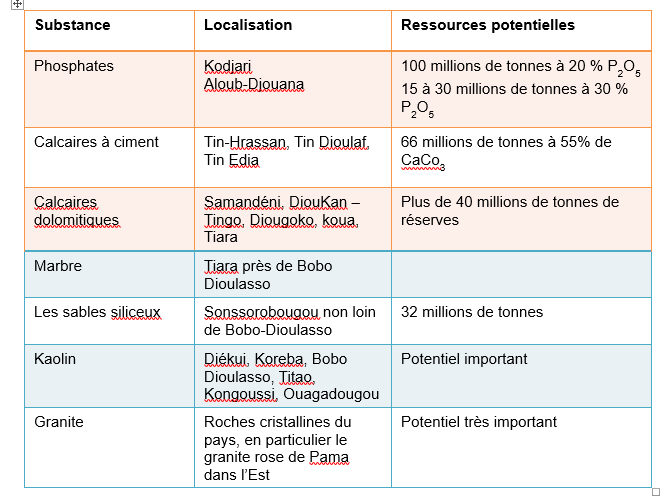 4. LES SUBSTANCES ENERGETIQUES